Get ready for the ultimate pickleball tournament prep!
Join us at "THE TOURNAMENT EXPERIENCE" on January 22 & 23, 2023, at the Holua Resort, Kona.
With 4 sessions to choose from, choose 1 or all! In Session 1, learn defense and resets to boost your confidence on the court. Discover the mental game to gain that crucial mental edge. In Session 2, explore strategies to stay active off the ball and master the 3rd to 6th shots. Session 3, focuses on getting tournament-ready by helping you make the right choices and strategies, whether it's weeks or just moments before the big day. Learn to harness your strengths and cleverly cover weaknesses. In Session 4, we'll teach you how to create a winning game plan, trust your partner, and analyze your opponents quickly. Don't miss this essential pickleball tournament preparation.
Secure your spot for $125 per session.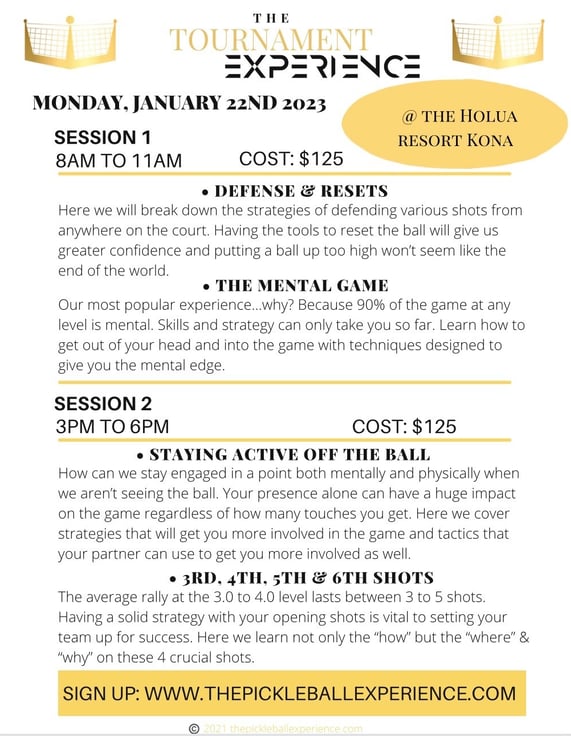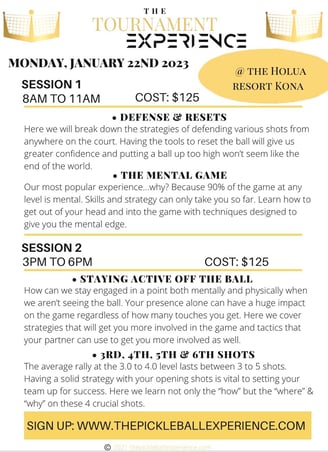 HOW TO REGISTER:
1 .PRESS BUTTON LINK ABOVE
2.press button "GUEST REGISTRATION FOR CAMPS"
3. Log in or Create account
4. fill in registration details